YOUR GUIDE TO: POWERBLOCK ADJUSTABLE DUMBBELLS
OVERALL FEEL
PowerBlock Adjustable Dumbbells are one of the easiest to use adjustable dumbbells on the market. The weight changes quickly, and the mechanism for changing the weight is simple. The value you get with their starter sets ranging from 5 to 50 pounds, as well as the upgrade kits are great. Powerblock adjustable dumbbells are praised for their ease of use and you won't have to deal with any weight plates.
DESIGN
Powerblock adjustable dumbbells allow you to change from 5 to 50 pounds, or even 90 pounds in seconds. The way they are designed is there is a pair of pins that slide into the side, locking in which amount of weight you'd like to lift. The weight increments are very well marked and even colour coded, which means you don't have to spend time figuring out how much weight you're adding. Powerblocks, unlike the Ironmaster adjustable dumbbells have different series, whereas Ironmaster keeps their design the same throughout, just adding more plates to the expansion. The different series that Powerblock offer are nice, because it offers different price points.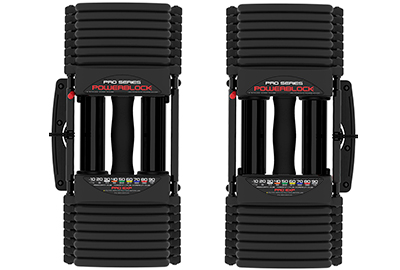 SPORT SERIES
The Powerblock Sport Series features the most budget-friendly adjustable dumbbells that PowerBlock makes. Each is designed with lighter weight. The Sport 24 and Sport 50s are not expandable and you don't plan to expand above 50 pounds, these will save you a lot of money. If you plan to ever lift more than 50 pounds, there is an expandable option, the Sport EXP, which has a maximum weight of either 70 or 90 pounds per hand, depending on which kit you purchase.
Each of the Sport Series has a rubber grip and a more open handle design intended to give the user a wider range of motion. The other major difference is the Sport Series does not have any type of coating on it. They are made of welded solid steel, with a powder coat finish. There is nothing wrong with this material, but some prefer the coating on the higher series.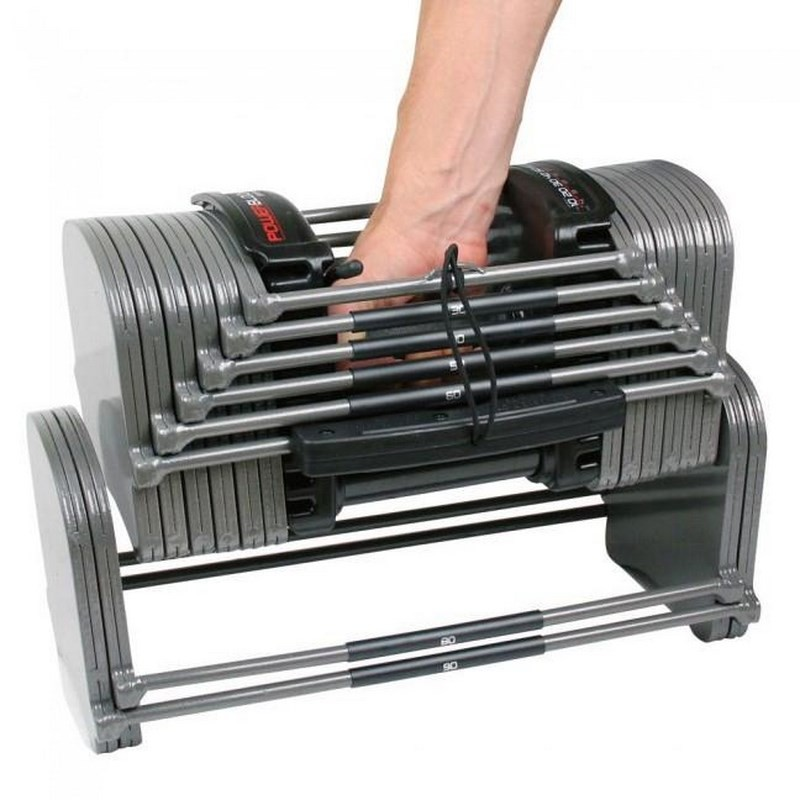 PRO SERIES
The Pro series features premium details throughout, such as urethane coated steel plates, multiple handles, knurled options, and more. The Pro series is the highest quality adjustable dumbbell that Powerblock makes and has the most options.
SHAPE
The Powerblock adjustable dumbbell set does a good job of keeping the dumbbell as compact as possible as the weight per dumbbell goes up. This adjustable dumbbell is square, so like the Ironmaster dumbbells you don't have to worry about them rolling away. Some series are a little less rounded on the corners than others, which means it may not be the most comfortable to rest on your legs.
HANDLE
One feature that is commented on a lot is the fact that the handle is enclosed, wheras with a traditional dumbbell you don't have this restriction outside your grip. Overall, most people won't find this prohibiting, if you think about the path of a bicep curl there's really no reason you would need space around your grip. However, it does prohibit you from doing some exercises, such as overhead triceps extension. Your comfortability with the grip and the handle entirely depends upon how married you are to the traditional single dumbbell design.
WEIGHT RANGE
Most of the PowerBlock adjustable dumbbells change in 5-pound increments, though there is a way to adjust by 2.5 pound increments with adder weights. 5 pound increments are most common for adjustable dumbbells and while Powerblock doesn't provide 2.5 pound increments in their initial set, they are available for purchase. Typically Powerblock offers a 5-50 pound starting set, then can upgrade up to 70 pounds and 90 pounds. The average lifter would not require weight over 90lbs per hand, however if you are a lifter that does require this much weight, then Ironmaster may be a better option.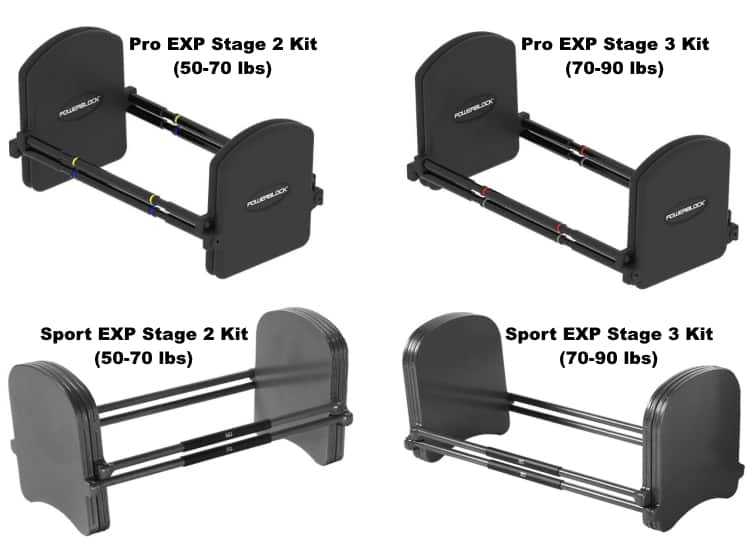 ACCESSORIES
The Powerblock adjustable dumbbells have a variety of accessories. Similar to Ironmaster, they offer an EZ curl bar, straight barbell and kettlebell attachment. These options take the great value of adjustable weights even further, because now you're not only replacing a full set of dumbbells, but a full set of kettlebells and a barbell with weights. Another reason adjustable dumbbells are a great option for your home gym.
SAFETY
The pin has magnets on the inside to hold it securely against the weights. The only safety concern that you need to be careful of is making sure the pin is all the way in before lifting the weights. If the pin is not all the way in, it is possible for it to slide out. As long as you are being careful of this then the Powerblocks are a safe and sturdy option.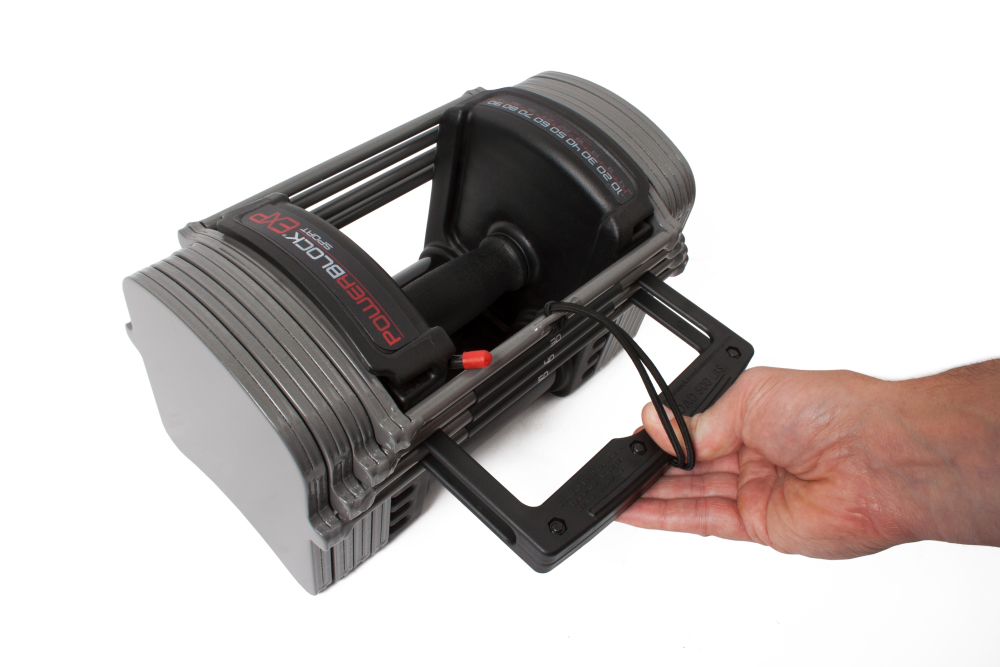 LONGEVITY
Each model uses its own materials and finish, including powder coats, urethane, and steel. Unlike cheaper adjustable dumbbells, PowerBlocks do not have an excessive amount of plastic, which leads to their great durability. If anything, the pin may need to be replaced, but proper care and making sure it's all the way in will help avoid this. Powerblock offers a five year warranty on their adjustable dumbbells.